Frontier Supply
(907) 334-3700  |   Visit Website


              

Frontier Supply in Anchorage, Alaska is a full-service housekeeping and hardware store located conveniently near a lumberyard. In addition to their regular selection of hardware, they also have a full plumbing supply store where customers can find everything needed to complete their plumbing repair or build job. From the latest in building materials and tools to individual items for fortune or do-it-yourself projects, Frontier Supply in Anchorage, Alaska has it all. Customers can find high-quality supplies for any project big or small, and their knowledgeable staff can help with both pre-sale and after-sale service.
Ratings for Frontier Supply
google
Reviews for Frontier Supply
ron m.
Pass on this company if you're needing supplies shipped from the Anchorage store. I had high hopes at first. Friendly and knowledgeable. Then things fell off the rails. I provided my list of needs. I was assured it would be shipped out that day unless there was an issue and if so then I would be called back. I learned several days later there was an issue with a few parts, but never got that call because the employee went home for the day and his weekend. Then when I finally received my shipment not everything was shipped. I assessed two air cargo freight fees as a result of Frontier Supply's error. Attention to detail and follow through are some of the important aspects I look for in a company when I do business with them and Frontier Supply fell short on both.
evgeny r.
brice t.
Rob was great to deal with! Great customer service which is getting more rare these days.
Photos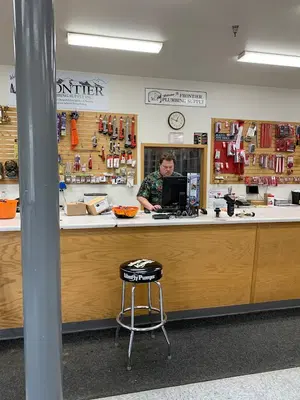 Business Hours
| | |
| --- | --- |
| Sunday: | Closed |
| Monday: | 7:00 AM - 5:30 PM |
| Tuesday: | 7:00 AM - 5:30 PM |
| Wednesday: | 7:00 AM - 5:30 PM |
| Thursday: | 7:00 AM - 5:30 PM |
| Friday: | 7:00 AM - 5:30 PM |
| Saturday: | 8:00 AM - 12:00 PM |
Nearby Home Repair Experts