Home & Commercial Services, LLC
(205) 798-0635  |   Visit Website


              

Home & Commercial Services, LLC in Birmingham, Alabama is a highly experienced and reputable HVAC contractor supplying superior services to their customers. Their team provide heating, ventilation, air conditioning, and refrigeration services for residential and commercial clients in the Birmingham area. They work with customers to develop and install comprehensive programs that are both energy-efficient and cost-effective. They use only high quality products to ensure every job is completed to the highest standard. The qualified technicians are continually trained in the most up-to-date HVAC technologies and regulations. Home & Commercial Services, LLC is committed to providing excellent customer service and continuing to develop a strong reputation in the Birmingham area.
Ratings for Home & Commercial Services, LLC
google

facebook

bbb

yelp
Reviews for Home & Commercial Services, LLC
kelly m.
Absolute cream of the crop... Once you team with Home & Commercial Services to resolve any heating, ventilation, or air issues, you will never call another company ever again. From Heather's cheerful friendliness & efficiency scheduling on the phone to Eric's unparalleled skill diagnosing & repairing with his magic in the field, we are more than impressed, we are CAPTIVATED with the service yielded by this company. These guys are not just highly trained, they are one in a million-- each so professional, prompt, and personable. Highly recommend and forever will.
jessica s.
Josh was friendly and helpful the first visit I had them come out, he was great. I had them come back out this year cause I was having issues after I just spent 1,500 with them last year. This service was horrible they didn't fix it, charged over 200 dollars. Then gave me quotes for 3500 and 7000 and said my unit was done I needed a new one. I sweated it out for a few and got a second option, the other company came out and fixed it for under 200 and gave amazing service. I called this company back and was trying to explain how I felt taken advantage of and the office manager was rude he kept trying to tell me he didn't think his tech would do that but I watched the new company I had come out rewire it and it started working. Long story short don't use them, they'll over charge you and lie to you. Try Service Tech inc. they are amazing and service is the best!

heidi c.
Keeley, Eric and all the guys there are top notch professionals that did an outstanding job getting us the right unit at the right price. We had a difficult install due to mistakes that were made on the previous install and they even went out of their way to troubleshoot and correct the situation for us- no extra charge. The unit looks good and works great.. Keeley gave us a very nice thank you gift that we love, as well! Highly recommend Home and Commercial Services llc!! Services: HVAC system maintenance, Heating system installation, Install thermostat, Install AC
Photos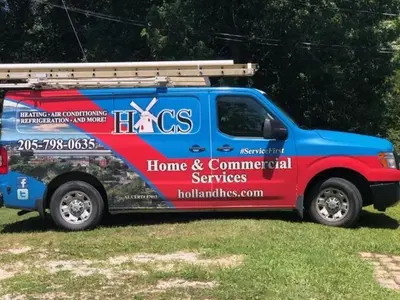 Business Hours
| | |
| --- | --- |
| Sunday: | Closed |
| Monday: | 8:00 AM - 4:30 PM |
| Tuesday: | 8:00 AM - 4:30 PM |
| Wednesday: | 8:00 AM - 4:30 PM |
| Thursday: | 8:00 AM - 4:30 PM |
| Friday: | 8:00 AM - 4:30 PM |
| Saturday: | Closed |
Nearby Home Repair Experts