Rapid Roofing LLC
(256) 715-8471  |   Visit Website


              

Rapid Roofing LLC is a roofing contractor located in Huntsville, Alabama. Specializing in residential and commercial roofing, the company provides services such as repairs and replacements for various types of roofing systems. They also offer quality roofing materials and installation services. With a mission to provide professional and courteous service, Rapid Roofing LLC works hard to meet each customers needs.
Ratings for Rapid Roofing LLC
google

facebook
Reviews for Rapid Roofing LLC
vickie m.
I can't say enough good things about this company! They came to our rescue when one of our condos had dangling fascia pieces after the wind & thunderstorm 3 weeks ago. Owner Donnie was on site within an hour of the storm to remove the damaged fascia, then fabricated new fascia and installed it 2 weeks later. They also did a roof inspection on all our buildings, all at a very reasonable cost. Would definately recommend them & will be our "go to" roofers in the future! Vickie, President English Village Condo Association
lowell f.
Donnie and his wife are as racist as it gets I usually don't see this amount of blatant racism I called in to see if they could do siding for me since the it's an old house and needed new exterior. The secretary who I'm pretty sure is his sister or something immediately changed her tone from the nice hello to ugh when I spoke It's like she was judging me over the phone When I asked to get a quot she put me on with Donnie who said that they don't do free estimates for people in "my neighborhood" I asked what he meant and Donnie replied,,, you know what that means can I help you with anything else?" Terrible terrible people
glenn j.
I paid over $10,000 for a roof replacement. Rapid Roofing did a good job except for the cleanup. I have picked up many nails in my gravel driveway and lawn. I have small pieces of roofing all around my home. I can't believe how far away from the homes foundation I am finding nails. The installers trampled four new shrubs in my front bed that will have to be replaced. I reported it to Donny and the salesman Chris and they took off an additional $150 charge they wanted for plywood they had to use for repairs. Chris told me that Donny would probably send them back out but never showed up. The communication Donny during the install was good when we had questions but not afterwards. I sent a text to Chris about the issue and did not receive a response. I would not submit this review if they had not used their cleanup practices as one of their most exceptional selling points. Services: Roof installation, Attic venting installation
Photos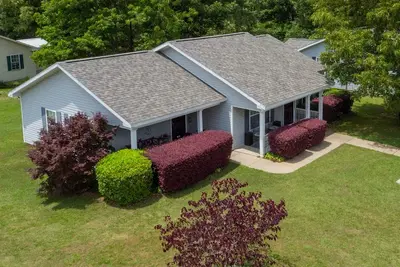 Business Hours
| | |
| --- | --- |
| Sunday: | Closed |
| Monday: | 8:00 AM - 5:00 PM |
| Tuesday: | 8:00 AM - 5:00 PM |
| Wednesday: | 8:00 AM - 5:00 PM |
| Thursday: | 8:00 AM - 5:00 PM |
| Friday: | 8:00 AM - 5:00 PM |
| Saturday: | Closed |
Nearby Lawyers and Law Firms