The Master's Plumbing Company
(205) 410-0652  |   Visit Website


              

The Master's Plumbing Company in Leeds, Alabama specializes in providing top-quality plumbing services to both residential and commercial customers. They employ trained and experienced plumbers who utilize the latest equipment and techniques to diagnose and repair any type of plumbing issue promptly and efficiently. Customers can expect the highest quality of workmanship when utilizing this trusted and reliable local business.
Ratings for The Master's Plumbing Company
google

yelp
Reviews for The Master's Plumbing Company
amy b.
Trevor (business owner) took care of my pressure regulator breakdown after two other plumbers gave me the run-around. I was getting antsy about the hot water heater, faucets, etc. giving out due to the extraordinarily high pressure I was experiencing. After easing my worries, and putting me on stand-by, Trevor was here in 2 days and completed the job. The epitome of professional. He doesn't do this in his spare time. He doesn't "plumb" in between deck jobs or sod jobs or painting jobs. Craft is craft and Trevor is now my official house plumber. You really do get what you pay for.
bobby h.
I don't like leaving negative reviews but had to on this one. Trevor said he would be there at 8:30am. Arrived late. Told me on the phone it would be $395 to swap out garbage disposal. Then charged $454 ($59 fee added). He parked his truck in my driveway for no good reason and leaked a large amount of black oil right in the front of the driveway! Called him back immediately and he told me he would take care of it, then did not. Now I have oil stain on my driveway! Called a week later and told me it was not his area of expertise...cleaning up his oil stain and he wasn't even sure it was his stain but admitted his truck was leaking oil. Sad
denis b.
Asked for a 1 foot section of pipe by my hot water heater to be replaced and was quoted $275 plus the initial $60 service call fee just to show up. The parts alone to fix it aren't even worth $25. If you use this company be prepared to lose an arm or a leg.
Photos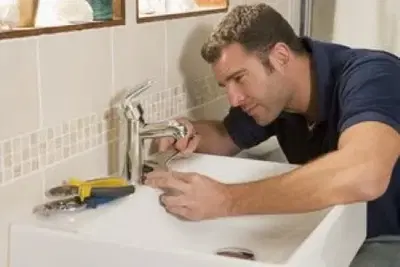 Business Hours
| | |
| --- | --- |
| Sunday: | Closed |
| Monday: | 8:00 AM - 5:00 PM |
| Tuesday: | 8:00 AM - 5:00 PM |
| Wednesday: | 8:00 AM - 5:00 PM |
| Thursday: | 8:00 AM - 5:00 PM |
| Friday: | 8:00 AM - 5:00 PM |
| Saturday: | Closed |
Nearby Home Repair Experts