Service Air Eastern Shore, Inc
(251) 990-8060  |   Visit Website


              

Service Air Eastern Shore, Inc is an HVAC and air conditioning contractor based in Silverhill, Alabama that also provides an air duct cleaning service. The company specializes in quick and efficient services with no mess left behind that will restore and maintain indoor air balance and comfort. They also offer heating, air conditioning, ventilation, and indoor air quality assessments and solutions.
Ratings for Service Air Eastern Shore, Inc
google

bbb

facebook

yelp
Reviews for Service Air Eastern Shore, Inc
scotty j.
I had a service call years ago. Tech showed me how to do it myself next time and save that money. I said won't the boss get on to you? He shyly said, I'm the owner. We've used them ever sense. This week we had a fan start having issues on outside unit. Greg came out and checked it out. It was now working but he said, I can hear it and it's gonna to out soon. I'm gonna go ahead and order the part and put it on my truck. It went out the next night, had it fixed and done in an hour. I can't recommend a company more! Service: HVAC system repair
michael b.
Alex was on time. He and his associate went to work right away. Very polite, well mannered. They cleaned up well when done. They explained the operating of the mini split to me before they left. Great experience. Also, the estimating process was great, and affordable. Services: Install AC, Ductless heating & A/C services
brantley r.
I've been working with Matt at Service Air and he has been nothing but professional, responsive, and helpful. Can't recommend them enough.
Photos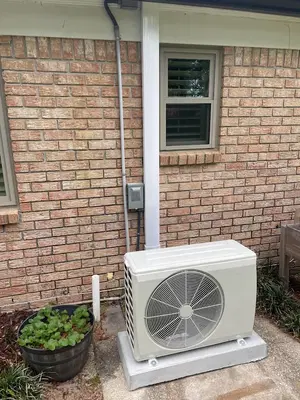 Business Hours
| | |
| --- | --- |
| Sunday: | 7:00 AM - 7:30 PM |
| Monday: | 7:00 AM - 7:30 PM |
| Tuesday: | 7:00 AM - 7:30 PM |
| Wednesday: | 7:00 AM - 7:30 PM |
| Thursday: | 7:00 AM - 7:30 PM |
| Friday: | 7:00 AM - 7:30 PM |
| Saturday: | 7:00 AM - 7:30 PM |
Nearby Home Repair Experts