Williams Heating & Cooling
(256) 227-9828
Williams Heating & Cooling is an air conditioning contractor in Decatur, Alabama. This trustworthy company offers professional installation, repairs and maintenance of numerous air conditioning systems. They are dedicated to providing top-notch workmanship and excellent customer service.
Ratings for Williams Heating & Cooling
google

facebook
Reviews for Williams Heating & Cooling

nick s.
Imagine coming home from the hospital with your 2 day old newborn and finding your house at 83 degrees and air conditioner refusing to come on. That was me yesterday. In a panic I called three companies and left voicemails with my situation with all three, and Mike at Williams Heating and Cooling was the first one to call me back, within 10 minutes (and only one that day!). He was at my house in less than fifteen minutes. Mike was incredible. Quickly diagnosed the problem, showing me what he was doing the whole time, talked me through some options, and got us fixed within an hour and a half, probably closer to an hour. I have nothing but positive things to say about Mike and this company. I went from panicked and in a hot house to being able to focus on my wife and child in a cool house much faster than I would have expected. On top of really knowing what he was doing and being so efficient with his repair, Mike just really seems like a great guy. If you're looking for any kind of heat
jessica t.
The best most professional men in this business. Honest and trustworthy. They are very tidy and clean up after themselves. I highly recommend them to everyone! Services: Ventilated ceiling installation, Installation, Heating system installation, Install AC

andrew j.
Amazing! Called in the morning on a friday and they came out and found the issue and fixed it in the same day! Very knowledgable and experienced Service: A/C system repair
Photos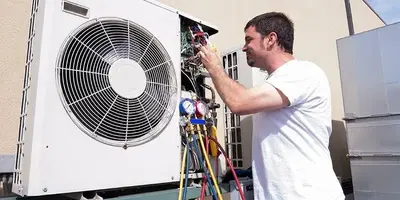 Business Hours
| | |
| --- | --- |
| Sunday: | 12:00 AM - 12:00 AM |
| Monday: | 12:00 AM - 12:00 AM |
| Tuesday: | 12:00 AM - 12:00 AM |
| Wednesday: | 12:00 AM - 12:00 AM |
| Thursday: | 12:00 AM - 12:00 AM |
| Friday: | 12:00 AM - 12:00 AM |
| Saturday: | 12:00 AM - 12:00 AM |
Nearby Home Repair Experts