Agape Roofing LLC
(256) 202-4818  |   Visit Website


              

Agape Roofing LLC, located in Guntersville, Alabama, is a roofing contractor who provides a variety of services including roof installation, repairs, maintenance and inspections. They are experienced at working on many different types of roofs of all shapes and sizes, from residential and commercial homes to churches and historical buildings. The company is dedicated to providing quality workmanship and the best customer service, ensuring that all projects are completed on time and within budget.
Ratings for Agape Roofing LLC
google
Reviews for Agape Roofing LLC
vivian j.
Hats off to Agape Roofing for going above and beyond. All work was of the finest quality, all crew members were here to do the job and do it well. Each phase of our new shingles, gutters and downspouts went like clockwork. Such a pleasant experience. Thanks to each of the crew from a very satisfied customer Services: Gutter installation, Roof inspection, Roof installation
rita t.
We can not say enough good things about Agape roofing Co. Mom & dad had wind damage, first adjuster that came out only wanted to pay for a partial roof. They had shingles missing from one end of the house to the other. With my parents being older my siblings and myself help handle some of their issues so that they are not taken advantage of. It was a battle with the Ins Company but Tim provided pics and info that the adjuster didn't get to get a full roof replaced and asked for a competent adjuster to take over their claim. Mom and dad were extremely pleased with the quality of work , the guys doing the work, and with clean up. If you're needing a roof give these guys a call .You won't regret it!. Services: Attic venting repairs, Roof repair for storm & wind damage, Roof inspection, Roof repair, Roof installation, Gutter cleaning, Roof damage repair
nick h.
I don't have the vocabulary to adequately express how awesome this company is. A lot of businesses talk about things like service, quality and professionalism but most never live up to the hype and your happy if the work or product is just good enough. The folks at Agape Roofing don't do "just good enough" work. This is the most professionally run business that I have EVER dealt with. Tim Richey, the owner, is a man of his word and communicates with his customers through each step of the process and keeps them in the loop. There's no, "I wonder when the roofers are gonna show up" with these guys. Friendly and professional is the best way to describe Agape Roofing. We've had two BIG rains since they finished our roof with zero leaks. Before they repaired our roof we had MANY! Bottom line? If you need roof work done, don't even think about it. Call Agape Roofing. You will thank me later. Services: Roof repair for storm & wind damage, Roof inspection, Roof repair, Roof install
Photos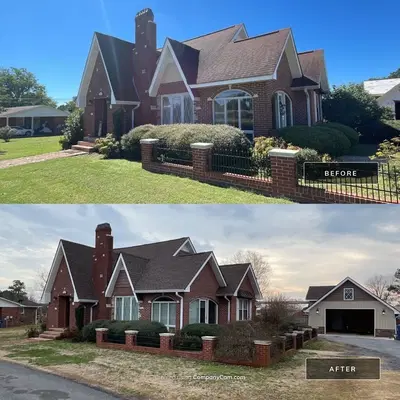 Business Hours
| | |
| --- | --- |
| Sunday: | Closed |
| Monday: | 7:30 AM - 5:00 PM |
| Tuesday: | 7:30 AM - 5:00 PM |
| Wednesday: | 7:30 AM - 5:00 PM |
| Thursday: | 7:30 AM - 5:00 PM |
| Friday: | 7:30 AM - 5:00 PM |
| Saturday: | Closed |
Nearby Home Repair Experts