Superior Heating & Air
(256) 837-2525  |   Visit Website


              

Superior Heating & Air is a well-known HVAC contractor based in Harvest, Alabama, which specializes in air conditioning installation, repair and maintenance services. They provide reliable air conditioning repair services to both residential and commercial customers and have a team of dedicated and highly experienced air conditioning contractors to meet the needs of their customers.
Ratings for Superior Heating & Air
google

yelp

angi

bbb

facebook
Reviews for Superior Heating & Air
jason
I noticed my A/C wasn't working on a "feels like" 105 degree day. Called Superior and they arrived in 30 min. Quick diagnosis and I was up and running again in about an hour. It's possible the truck was already close to my location, however I do appreciate the quick response. Justin was polite and knew exactly what he was doing. I told my wife before I called that an A/C repair company will probably say, "you need a new unit." That is what most people tell me has happened with them. Not the case here! Even though my unit is older, he said it was still holding refrigerant well. He replaced the failed part for a reasonable price and I am fixed up. I appreciated his honesty about the unit. I would have no idea one way or the other if the unit needed replacing or not. Service: A/C system repair
mike f.
I have never done business with this company however I did consider them. But they advertise on wvnn and are supporting Dale Jackson which is a hateful racist person. Therefore I cannot do business with a company like this. This goes for any other company doing business with wvnn. I miss patriotic as anybody but there's a line I draw.

suesuka s.
Not experienced on cleaning package units. Courteous and pleasant after I told him where the filters
Photos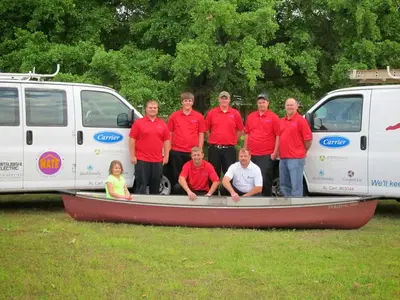 Business Hours
| | |
| --- | --- |
| Sunday: | 12:00 AM - 12:00 AM |
| Monday: | 12:00 AM - 12:00 AM |
| Tuesday: | 12:00 AM - 12:00 AM |
| Wednesday: | 12:00 AM - 12:00 AM |
| Thursday: | 12:00 AM - 12:00 AM |
| Friday: | 12:00 AM - 12:00 AM |
| Saturday: | 12:00 AM - 12:00 AM |
Nearby Lawyers and Law Firms