Residential Air LLC
(256) 426-6882  |   Visit Website


              

Residential Air LLC, a HVAC contractor in Madison, Alabama, offers a variety of services all across the state. Their services include repairs, installations, HVAC preventative maintenance, and much more. Owners Paul and Tricia Senators provide personalized service; they listen to their customers and understand the importance of using quality products when working on their customers' homes. They have years of experience working with all types of HVAC systems and have the ability to diagnose and repair any issue. Residential Air LLC will work with you to create the best solution to get your home running efficiently.
Ratings for Residential Air LLC
google

bbb

yelp
Reviews for Residential Air LLC
first l.
Great company. They had someone out fixing my ac the same day I called. Carter was extremely knowledgeable and diligent. Probably went above and beyond even of what was required. Great technician Service: HVAC system repair

dl v.
We decided to use RESIDENTIAL AIR to support an American veteran. The owner Chris and his team replaced our old HVAC system. They also fixed our many ductwork problems that was installed by the home builder incorrectly. Our HVAC is now reliable and much more energy efficient. When you need help with HVAC the best team for Huntsville is RESIDENTIAL AIR! Service: HVAC system repair
david l.
During a simple fan motor repair they inadvertently incorrectly wired the start compressor resulting in a 2 burnt out compressors. We finally had another company diagnose the HVAC system and find the mistake. During the 1st compressor repair, he did not change out the capacitor, dryer or open and clean the Venturis. He did not acknowledge any possibility of misdiagnosis and tried to charge us for the second repair/replacement even though they were at fault. Stay away from Chris Service: HVAC system repair
Photos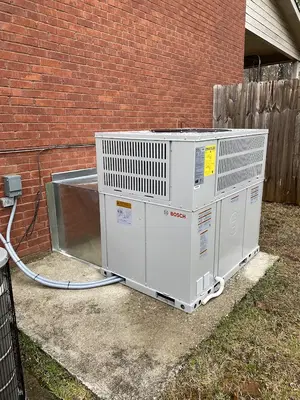 Business Hours
| | |
| --- | --- |
| Sunday: | Closed |
| Monday: | 7:30 AM - 4:30 PM |
| Tuesday: | 7:30 AM - 4:30 PM |
| Wednesday: | 7:30 AM - 4:30 PM |
| Thursday: | 7:30 AM - 4:30 PM |
| Friday: | 7:30 AM - 4:30 PM |
| Saturday: | 8:00 AM - 4:00 PM |
Nearby Lawyers and Law Firms